Logistics and Hotel Information
Directions to DOJ Office of Justice Programs (OJP)
Each 2-day seminar begins at 8:30 a.m. and ends at 5 p.m. Certificates are only provided to participants who complete the entire 2-day training. The certificates will be available online for printing to eligible participants after completion of the seminar.
Location
DOJ/OJP
810 7th Street, NW
3rd Floor
Washington, DC 20531
The Financial Management Seminars are being held in Washington, DC at OJP. The seminar site is located near the Gallery Place-Chinatown Metro station stop, which is on the Red, Yellow, and Green lines (a link to the Metro website and map is offered further down on this page).
From the Gallery Place station, take the 7th and H Streets exit. Cross to the northwest corner of 7th and H Streets and proceed up 7th Street for about half of a block. The entrance to 810 (OJP) will be on your left.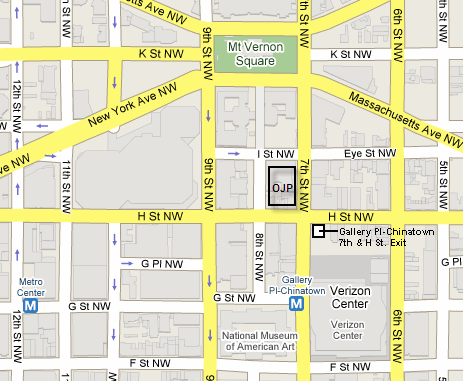 Directions to DOJ OJP
Attendees are responsible for all costs associated with their participation in the seminar, including lodging and transportation.
A specific hotel has not been designated for the trainings. Please be advised that hotels in the Washington, DC area offer a number of rooms at the Government per diem rate, but these Government room rate reservations sell out quickly. Thus, we recommend booking your lodging in advance (but only after you have been approved to attend the seminar).
There are many Metro-accessible hotels in Washington, DC. For more information on how to get from your hotel to the seminar site, please refer to the DC Metro map and trip planner. For planning purposes, please note that the Gallery Place-Chinatown Metro station is approximately one block from the seminar site. For your reference, please see a list of hotels in the area below. They are grouped by proximity to Metro stations.
Hotels near Gallery Place/Chinatown Metro Station (Red, Yellow, and Green Metro Lines)
Fairfield Inn and Suites Washington, DC/Downtown
500 H Street, NW
Washington, DC  20001
Phone: 202-289-5959
Hampton Inn Washington/Downtown/Convention Center
901 6th Street, NW
Washington, DC  20001
Phone: 202-842-2500
Courtyard Marriott Washington Convention Center
900 F Street, NW
Washington, DC  20004
Phone: 202-638-4600
Renaissance Washington, DC Downtown Hotel
999 Ninth Street, NW
Washington, DC  20001
Phone: 202-898-9000
Embassy Suites Washington, DC Convention Center
900 10th Street, NW
Washington, DC 20001
Phone: 202-289-2548

The Henley Park Hotel
926 Massachusetts Avenue, NW
Washington, DC  20001
Phone: 202-638-5200
Hotels near Metro Center Station (Red, Orange, and Blue Metro Lines)
Grand Hyatt Washington
1000 H Street, NW
Washington, DC 20001
Phone: 202-582-1234
Hilton Garden Inn Washington DC Downtown
815 14th Street, NW
Washington, DC 20005
Phone: 202-783-7800
Washington Marriott at Metro Center
775 12th Street, NW
Washington, DC 20005
Phone: 202-737-2200
Hotels near Mt. Vernon Square/ Convention Center Metro Station (Yellow and Green Metro Lines)
Comfort Inn DC Downtown/Convention Center
1201 13th Street, NW
Washington, DC 20005
Phone: 202-682-5300
The Eldon
933 L Street, NW
Washington, DC 20001
Phone: 202-540-5000
Marriott Marquis Washington DC
901 Massachusetts Avenue, NW
Washington, DC 20001
Phone: 202-824-9200
Hotels near Union Station (Red Metro Line)
The George
15 E Street, NW
Washington, DC 20001
Phone: 202-347-4200
Hyatt Regency Washington on Capitol Hill
400 New Jersey Avenue, NW
Washington, DC 20001
Phone: 202-737-1234
The Liaison Capitol Hill, An Affinia Hotel
415 New Jersey Avenue, NW
Washington, DC 20001
Phone: 202-638-1616
Hotels near McPherson Square (Orange and Blue Metro Lines)
Four Points by Sheraton Washington, DC Downtown
1201 K Street, NW
Washington, DC 20005
Phone:  202-289-7600
Hamilton Crowne Plaza – Washington
1001 14th Street, NW
Washington, DC 20005
Phone:  202-682-0111
Residence Inn Washington, DC Downtown
1199 Vermont Avenue, NW
Washington, DC 20005
Phone: 202-898-1100
Sofitel Washington DC Lafayette Square
806 15th Street, NW
Washington, DC 20005
Phone: 202-730-8800
The Westin Washington, DC City Center
1400 M Street, NW
Washington, DC 20005
Phone: 202-429-1700
Hotels near Farragut North (Red Metro Line)
Capital Hilton
1001 16th Street, NW
Washington, DC 20036
Phone: 202-393-1000
Hampton Inn Washington, DC/White House
1729 H Street, NW
Washington, DC 20006
Phone: 202-296-1006
The Mayflower Hotel, Autograph Collection
1127 Connecticut Avenue, NW
Washington, DC 20036
Phone: 202-347-3000
Hotels near L'Enfant Plaza (Yellow and Green Metro Lines)
Holiday Inn Washington Capitol
550 C Street, SW
Washington, DC 20024
Phone: 202-479-4000
Hotels near Dupont Circle (Red Metro Line)
Holiday Inn Washington DC – Central/White House
1501 Rhode Island Avenue, NW
Washington, DC 20005
Phone: 202-483-2000
Hotel Palomar
2121 P Street, NW
Washington, DC 20037
Phone: 202-448-1801
Residence Inn Washington, DC Dupont Circle
2120 P Street, NW
Washington, DC 20037
Phone: 202-466-6800